What is Renew and how can it help?
Renew counseling is a proven process for obeying God's command to renew your mind and experience lasting transformation (Romans 12:2). Many Christians feel like they have already tried to "be transformed by the renewing of their minds". They've memorized verses, studied Scripture, gone to counseling, and yet still struggle to effortlessly experience the supernatural and unconditional love, joy, peace, and control of God's spirit inside us. They believe they know the truth of God's love for them, but remain baffled as to why they don't live like it. They wonder "why isn't any of this working"?
This is often because they have only been addressing the conscious/logical part of their mind. What's needed is to get the truth they already know, to the hidden and hurting parts of their heart as David states in Psalm 139:23-24: "Search me, God, and know my heart; Put me to the test and know my anxious thoughts; And see if there is any hurtful way in me, And lead me in the everlasting way". Renew Counseling is effective at resolving these hidden, hurting and hurtful ways that cause persistent emotional pain. Renew reveals and locates these stubborn spiritual "footholds" and "fortresses" (cf. Eph 4:27; 2 Cor 10:4) that keep you from experiencing the Jesus in you.
What Happens in a Renew Session?
The Renew process is different from traditional counseling. We believe most Christians already know the truth necessary to overcome the power of Satan's lies, they just need help applying relevant truth to the SOURCE of their pain. The Renew process is summed up in 5 steps: FEELING, EXPERIENCE, LIE, JESUS and TRUTH.
FEELING: We start with connecting to a recent negative feeling or emotional trigger.
EXPERIENCE: Through a natural process of association, we follow that feeling to its source. This normally leads to a past event or memory.
LIE: Together we uncover painful beliefs in that memory that are contrary to God's word. These are usually lies about yourself or God that felt true when the event happened.
JESUS: Jesus says he is the way the truth and the life. At this point, we focus our attention on Jesus as the source of Truth that our hearts desperately need.
TRUTH: This is where the healing happens as we allow Christ's truth to minister to the hurting part that is believing a lie.
When all the lies in the memory are "cleaned out" and your mind is renewed with God's truth, you will find that the PAIN IS GONE in that place! The hurtful memory will feel calm and peaceful.
Meet Renew Ministry Leader Matt Huether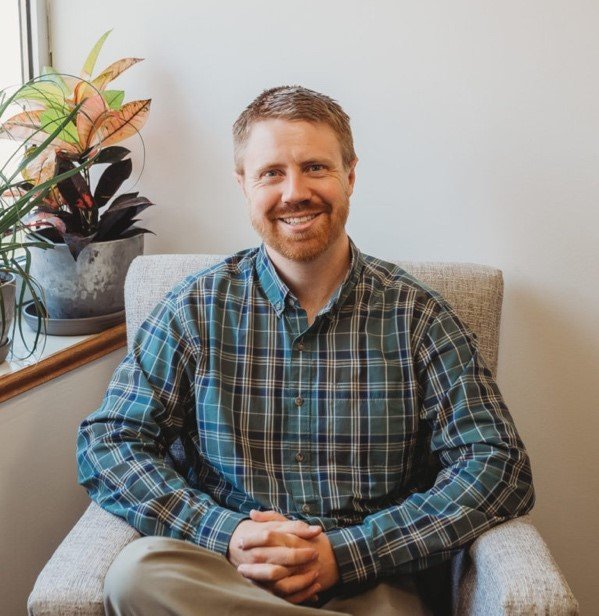 Matt is first a son of God, and second, a Psychiatric Nurse Practitioner. He's been a member of New Life Community Church since 2007 and a nurse practitioner since 2021. He opened Atlas Psychiatry in March of 2021 with a goal of providing psychiatric care not merely aimed at relieving symptoms but uncovering and resolving root causes of emotional pain. Since opening his practice, he has become more and more passionate about not merely offering people fish, but teaching people how to fish. His desire has become to equip the local church to "teach and counsel one another with all the wisdom Christ gives," and to restore true soul care to her rightful owner, the body of Christ. That is why Matt has chosen to develop and lead Renew Ministry, to train the body of Christ to help each other overcome the negative emotions and lies the keep us from experiencing God's love and becoming more like Christ.